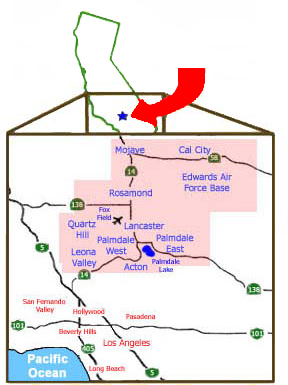 Jim Patton, offering full service in all form of vacant and raw land sale. Covering all areas of the Antelope Valley including, but not limited to Lancaster, Palmdale, Quartz Hill, Rosamond, Mojave, Acton, Leona Valley, Cal City and Edwards Air Force Base.
Jim Patton - Real Estate Broker can help you find that investment property or the vacant land to built your dream home on.
The Antelope Valley (AV) is located approximately 60 miles northeast of Los Angeles. Expanding over two counties, Los Angeles and Kern, the AV is known as the high desert because it has an average elevation of 2,800 feet above sea level. It consists of the cities/communities of Mojave, California City, Rosamond, Lancaster, Palmdale, Littlerock, Pearblossom, Lake Los Angeles, Leona Valley, and Lake Elizabeth. The AV, which consists of over 3,000 square miles, experiences all four seasons, with snow falling, on average, every 2-3 years and filled with prime investment vacant land.
Jim Patton was born (1952) and raised in Long Beach, California. He came to the Antelope Valley in 1977. In 1980, he began his involvement in real estate with Century 21, Doug Anderson in Lancaster. In 1985, he obtained his Broker's License, opened his own office, and began specializing in raw land. Mr. Patton has a BA in education from California State University at Long Beach, and two post-graduate degrees in education from California State University at Northridge and University of La Verne respectively.
In keeping with his philosophy of "first educate, then serve", Jim Patton offers free electronic news services to keep clients and prospects informed about the progress of the Antelope Valley real estate market. This free email news service includes AV news stories, as they break, and a monthly newsletter which also includes the previous month's land sales. All are sent to the clients computer(s) of choice via email. Jim Patton presently lives and works out of the Quartz Hill area of the Antelope Valley with his wife and family.